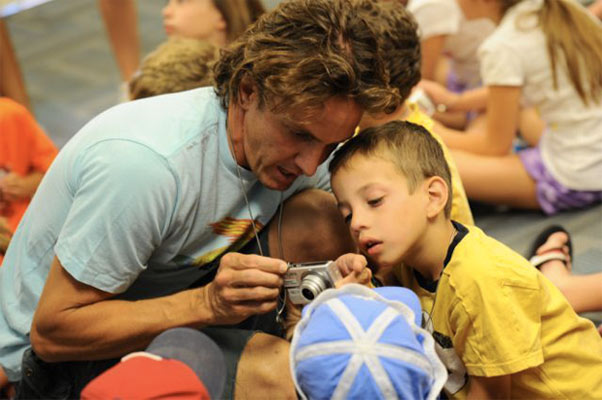 Storytelling is my passion.
When I'm not in the field, I love being in front of an audience, taking them on a journey of pictures and words. Over the years I've done dozens of presentations and I'm comfortable in front of large audiences and small ones.
My goal is to evoke a sense of place, passion and emotion through the stories I tell, and to convey the sense of inspiration that I found in learning about the struggles and triumphs of people all over the world.
If there's one thing I like to leave an audience with, it's a sense of the vast potential that we all have within us to do great things, and to make a difference in this world—no matter who we are. I've seen it in South African street kids, in Balkan refugees, in soldiers, nurses and teachers—it's just a matter of tapping into your truest self.
In recent years I've spoken at venues as diverse as:
Seattle's 2,500 seat Benaroya Hall, Chicago's Field Museum, the Gilbert Grosvenor Auditorium at National Geographic in Washington, D.C., and at the Fairmont Kid's Summer Camp in Scottsdale, Arizona.
Bookings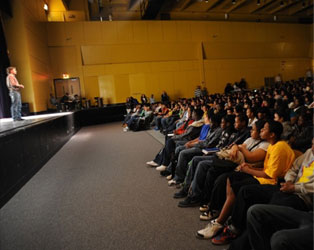 The Power of One
Visualization, mental toughness, rigorous planning, and self awareness are the tools that have enabled Davie to take on the hardest assignments National Geographic could throw at him—often against odds and in the face of danger. In this motivational presentation, Davie shares his secrets for digging deep in the well of your own potential and extending beyond your perceived limitations. Using examples from his war zone assignments and deep-jungle and mountaineering expeditions, Davie will unlock the power inherent in every individual to excel and to lead—in the wild and in the workplace.
The Choir: 5 Years in a South African Prison!
Filmmaker Michael Davie shows excerpts from his feature documentary The Choir and tells the stories behind the film. Shot over five years in South Africa's biggest prison the film follows the members of the prison choir in their struggle for redemption through music. Uplifting, unexpected and profoundly optimistic the film shows the power of the human spirit to transcend its circumstance through self-expression. The film asks the question "can people change?" and explores the conditions required to help them overcome their fears and limitations and thrive.
Africa: Through the Lens
As a filmmaker and journalist, Davie has been immersed in the violence and beauty of Africa—from civil war in Sierra Leone to the mountain gorilla murders and crisis in Virunga National Park, to prison choir competitions in Cape Town. As the cradle of humanity and the site of some of today's most critical threats to man—AIDS, violent civil war, infectious disease, scarce water and natural resources—and one of the last places on Earth many wild animals still call home. Davie aims to demystify the misconceptions about his homeland and generate a greater compassion for the people who live there. Richly embroidered with tales of adventure and extraordinary personal encounters this lecture will appeal to all those wanting to understand Africa today and its role in our future.
Follow Your Gut: Find Your Path
At age 22, in search of the spirit of African youth in all its beauty and brutality, Davie hitchhiked 8,000 miles from Cape Town to Cairo armed only with a video camera and a backpack. There, he rode shotgun with Special Forces police in Johannesburg, investigated the sexual abuse of street children in Zimbabwe, and uncovered government complicity in the heroine trade in Tanzania. He also climbed Mt. Kilimanjaro and rafted the Blue Nile in Ethiopia. The result was an acclaimed documentary series, "Cape Town to Cairo", and the start of an extraordinary career as a filmmaker. Davie shares his story as a way to encourage students to honor their passions, learn to manage risks, recover from setbacks, and thrive.